Message from the Chairperson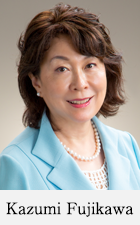 Pharma Delegates is a non-profit organization that has carried on the tradition for over 55 years.
The organization is driven by key executives from pharmaceutical, biotech and med-tech companies, both foreign and domestic, as well as executives from providers of services to the healthcare industry.

The Pharma Delegates community has benefitted from a cross- pollination of cultures and ideas and from the passion invested in discussing issues of importance, both global issues that may affect Japan and Japanese issues that could have a global influence.

Our focus will be on monthly luncheon meetings as a platform for sharing the latest information, insights and perspectives on the industry including industry trends, regulatory changes and the advancement of science and technology in the pharmaceutical industry and related fields.
We are open to new ideas and topics and will continue to adapt our agenda to changes in the healthcare industry.

We look forward to welcoming you to Pharma Delegates, a unique industry study group.

Kazumi Fujikawa
Chair, Pharma Delegates